Town Manager Directive 2A – June 11, 2020
Please reach out to your supervisors or the Human Resources department for information and solutions.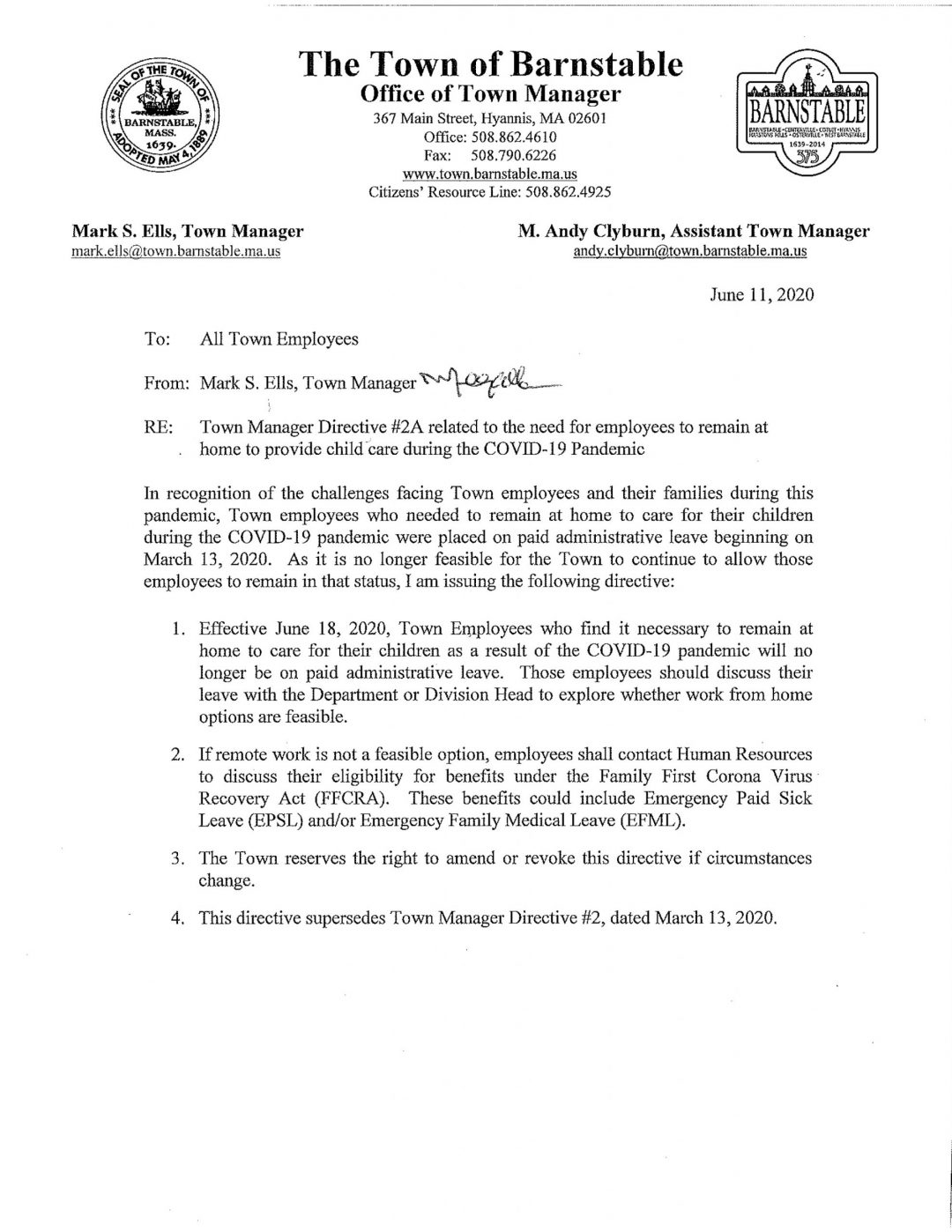 BMEA Members we understand this is a difficult time for all. Please communicate any questions/concerns you have regarding Town Manager Directives to your Steward or BMEA President. We are here to help and will reach out to management to answer any and all of your questions.
FROM TOWN MANAGER

To my fellow employees, I hope this email finds you in good health. I encourage each of you to continue to adhere to the CDC guidelines, practice social distancing and staying at home to the degree possible. Please reference our web site at www.BarnstableHealth.com for current information on this serious situation. Although these measures may seem inconvenient, they are certainly necessary and important if we are to succeed in flattening the curve and returning to some semblance of normalcy in everyday life. I want to thank you for continuing your attention to our various responsibilities and making valuable contributions throughout our community. Please remember however, you and your families health and safety is most important and should always take precedence. As we move into the coming days and weeks responding to this situation please keep in mind that there are many unknowns that may result with changing conditions. We will do all we can to provide accurate communications and prompt decision making so that our responses are appropriate to the situation at hand. We will continue to work remotely when possible, expand on "contactless service", and when at work focus on essential functions in a safe manner. We are carefully monitoring our progress on public health and safety relative to COVID-19 and the economic environment. Both will present significant challenges. I am confident we will eventually prevail in the fight to manage Covid-19 and recover from the economic impacts of this situation. Senior staff meets daily to plan, implement, and control our progress relative to this situation and will continue to do so until the situation concludes. We will keep you advised of our progress on responding to the present situations and as we commence our recovery in the coming months. Thank you for your dedicated service, Mark EllsBarnstable Town Manager
Directives:
As we carefully monitor and continue to plan for the health and safety of our employees, residents and visitors, I plan to as the need arises issue directives such as the one attached to provide needed communication relative to pertinent issues. In our efforts to avoid confusion and create proper controls I respectfully issue the first directive. I will continue to communicate with you throughout this serious situation. Please do not hesitate to ask questions and provide input through the duration of this situation. Respectfully, Mark EllsBarnstable Town Manager
#1 TM Directive
#2 TM Directive
#3 TM Directive